ERP/CRM

The ERP we offer is an open source software intended for the commercial management of a company. Multi-language and multi-currency, it makes it possible to enter and collect the essential data of a company, by following its commercial activity as closely as possible, in a sustainable and homogeneous way.
Features
Very simply, you will therefore be able to manage your customer/prospect/supplier file, create quotes, convert them into orders and then into invoices. You can also track your projects, and do a lot of your accounting. The main features you will find are:
customer relationship monitoring /prospect/supplier – CRM
an accounting management
management of stocks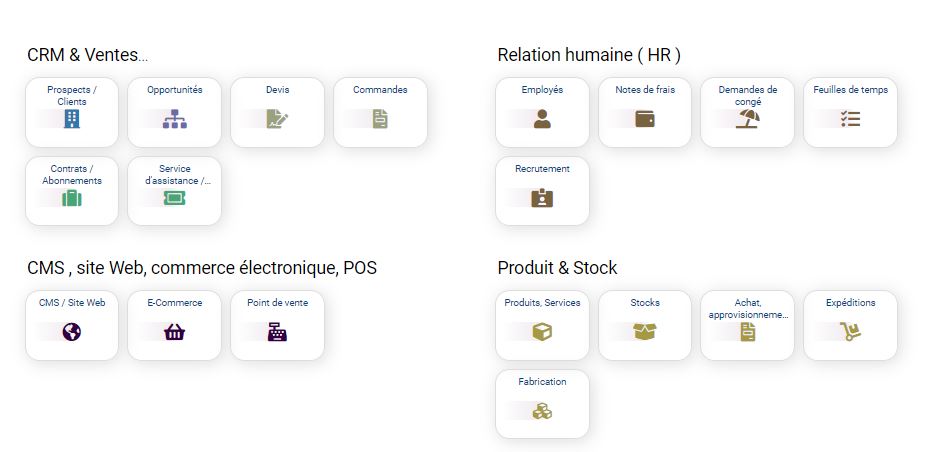 Request a 30 day free demo
Cabinets
Service companies
Industrial production industries
Distribution companies
Power supplies
Restaurants
Cafeteria
Hotels
Hardware
Shops
Pharmacies
Bakeries
Macquis
Bars
Store️
Beauty salon
Increase your sales, reduce your expenses and save time, no more shortages in your boxes, no more stock leaks. License valid for life.
NB: Remote access on PC, Smartphone & iPhone or locally.
Stock management
🛒 Purchase management
💵 Sales Management
🚛 Supplier Management
👥 Customer Management
🛒 Article management
💰 Payment management
✍️ Expense management
💸Management of credits and receivables
✍️Directory of prospects and/or customers and/or suppliers
✍️Directory of contacts/addresses
✍️Catalogue of products and services
🛒Order management
💰Management of commercial proposals
💰Service contract management
💰Management of customer and supplier invoices
💰Payment Management
💰Bank transfer management
🛒Shipping Management
👥Management of association members
👥Employee leave management
💰Expense report management
💰Management of social charges / VAT
💰Registration of employee payments
💰Double-entry accounting, general and auxiliary accounting: easily exportable to other solutions
👥Shared Agenda
💰Point of sale/Cash register
👥Carrying out surveys
👥Mass emailing to customers, prospects or users
💰Margin tracking
💰Collection of donations
💰Bookmarks
📊Business Intelligence reports and statistics
✍️PDF export of all elements (invoices, commercial proposals, orders, shipping slips, etc.)
✍️Imports and exports (CSV or Excel).
✍️LDAP Connectivity
And more
Why choose this ERP/CRM?
The ERP we offer is a software that seduces by its simplicity of use but also by its modularity .
Indeed, it offers a number of features as standard. In addition, the advantage of this solution is to be able to add the functionalities that will be adapted to your activity and your specific needs (such as multi-entity management, or production management for example).
Many software (mostly proprietary) offer you a complete solution, with features that you don't necessarily need, or not quite as they are proposed. Our ERP is the opposite: a common base is available, and your environment is built by adding what suits you.Thus your solution is at the right cost, that of your real need .
Another advantage is that your solution will be able tofollow your evolution. For example, you start your activity alone, and, we hope, your company is growing and now has 30 people: it is time to find a solution to manage the absences/presences of your employees. No need to change tools! All you have to do is evolve your environment. This will be done by means of already existing modules or additional developments for the specific needs that you have. You can test.
We draw our ERP from Open Source: What is open source?
The designation " open source " applies to software whose license complies with the criteria established by the Open Source Initiative, i.e. the possibility of free redistribution, access to source codes and derivative works. The benefits of open source:
The price: open source solutions often have a lower cost than their proprietary equivalent
The non- dependency: unlike proprietary solutions, there is no dependency on an editor. With Dolibarr, the community allows you to have a wide choice of service providers.
Openness: free solutions are systematically more respectful of standards and more open to the addition of complementary modules. This is what makes the modular solution.
Sustainability: even if the publisher fails one day, it will always be possible for the communities to take control of the solution and its evolutions.
Quality: the very large number of deployments, and therefore the feedback, that the community deployment model makes it possible to upgrade the often aging proprietary products.
Security: in terms of security, it is necessary to have access to the source code in order to to audit what a program really does. In addition, open source benefits from "peer review", peer validation. That is to say that other experts have been able to validate the solidity of the security of this or that open source solution. The greater the number of experts working under an open source solution, the more its code will be exposed to the audit of thousands of experts, thus guaranteeing its security.
We install the application for you wherever you want: You can install and use our ERP as a local application or online on a shared, dedicated server or a virtual machine to use it from any location.
Our ERP is available on all platforms, on your infrastructure or as SaaS application : ERP/CRM is available in various forms: From self-installing packages or standard distribution running on all operating systems with PHP architecture (Windows, Mac, Linux). Our ERP is also available as a SaaS application.
A rich ecosystem of partners: Because it's Open Source software, you can count on us for support or development custom if you need it.